Death: Been There. Done That.
By Michael Jackson
The only unquestionable certainty in life is death. On August 18, 2001, Michael Jackson died in a motorcycle wreck. After straying from his faith, questioning the Christianity he was raised on, he challenged our Creator, "Lord, if you are real... PROVE IT!!!" He did. If you seek Him, you will find Him. And the reward is of ETERNAL proportions!
Anagaion
By Tony Woods
Anagaion is a 30-lesson, three-part study course about Church history, heritage, basic Bible beliefs, and how all this applies to daily living.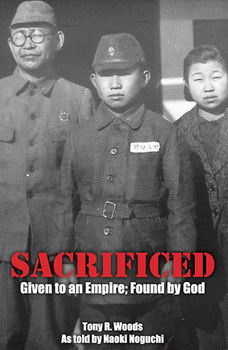 Sacrificed
By Tony Woods
In the final months before Japan's defeat in World War II, all of her citizens were being asked to make the supreme sacrifice for the sake of the Homeland.
Purchase online now from amazon.